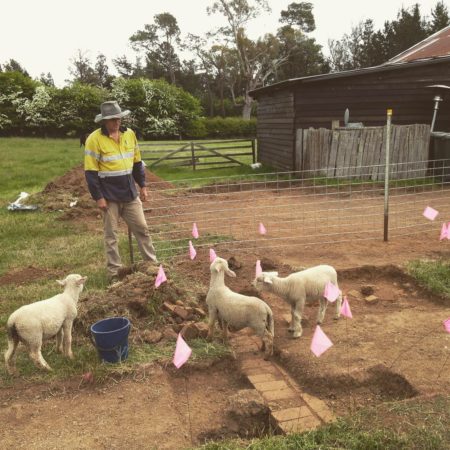 I gotta tell you, these lambs were not actually silent, but they were very pesky! Our flags were routinely removed by Larry the Lamb.
Apart from the Larry (and friend), Brickendon was an amazing job.
This is an aerial image taken with our drone and it shows the extent of the area excavated.
Brickendon is a world heritage listed property. Its attachment to the convict assignment period (pre-1838) makes it significant. It has been continuously farmed by the same family since the 1820s. I love this combination of progress meets historical recognition. It's embracing our past, whilst encouraging continued development.
Burra Charter Gold!
​We excavated Brickendon in November 2018. Using the drone we were able to document the site thoroughly and take aerial views of all the trenches. Using drones has revolutionised our business. We excavated old stables and farming sheds built in the 1830s.